ATV TRADER | ENWIX
Enjoy true freedom of movements
Never stop
Go to catalog
Trade-in
Order your off-road vehicle
on individual conditions

ATV TRADER | ENWIX
Enjoy true freedom of movements
Never stop
Go to catalog
Trade-in
Order your off-road vehicle
on individual conditions

MASTER OF THE OFF-ROADING - TRAVELS EASILY ANYWHERE
CAPABLE TO DRIVE ON DIRT, SNOW, ICE, WATER, SAND
HIGH LEVEL OF SAFETY: SAFETY HARNESS, FULL-FLEDGED SAFETY CAGE
THE UTV IS MODULAR, YOU CAN INSTALL ADDITIONAL EQUIPMENT
COMFORTABLE: SOFA, CONVERTIBLE LUGGAGE, WINDSCREEN WITH WIPER AND WASHER
MAXIMUM LOAD-CARRYING CAPACITY IN ITS WEIGHT CLASS
CAPABLE OF ANY DEGREE OF TURN AND MANEUVER
Seven in One
Farm ATV
Snowmobile
Amphibian
ATV
Buggy
Swamp buggy
UTV
Seven in One
Farm ATV
Snowmobile
Amphibian
ATV
Buggy
Swamp buggy
UTV
DIFFERENT FOR EVERYONE
ENWIX UTV easily adapts and builds up according to your needs!
The modular design allows you to turn START, into a STANDARD or ULTIMATE model. Just order the extra options. Fasteners and mounting points are the same for all modifications
Learn more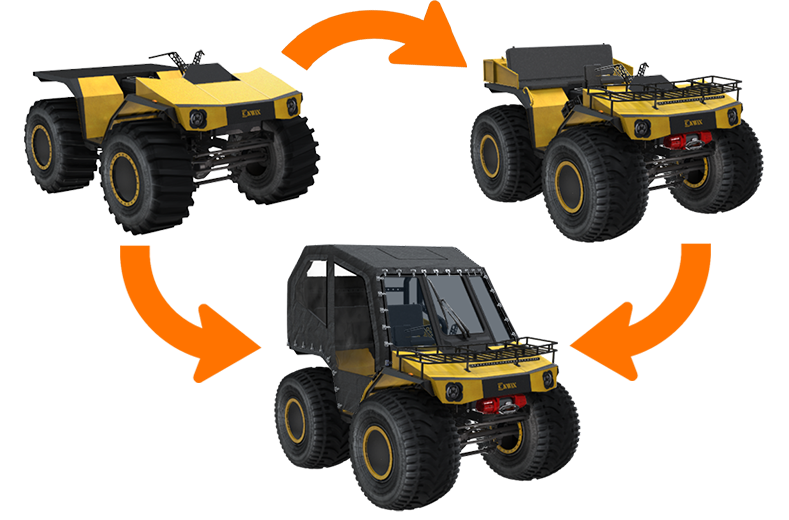 Virtual 3d tour
Visit the Enwix exhibition stand in the comfort of your own home. You will be able to view our off-road vehicles from all sides, and zoom in to get a close look at the details. Try it!
Watch
Enwix UTVs are used worldwide